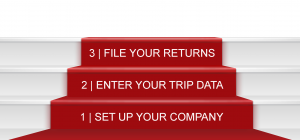 Step 1 – Set up your company!  Set up your Contacts – set up your Permits – set up your Vehicles.  One place – lots of room!  Keep names, addresses, phone numbers, email addresses, Permit numbers, login user names and passwords, VIN numbers, expiration dates and so on!  Once the initial set-up is completed, it's EASY to maintain!
Step 2 – Enter your trip data.  We offer you lots of different ways to enter data – manually key in each Trip Sheet – or upload data created by ELD's, fuel vendors, routing software or dispatch software.  We are already compatible with Comdata, Fleet One, Trimble and others.  If you already have a vendor sending your data, let us know and we can customize an upload just for you!
Step 3 – Prepare your tax returns.  Once your Company is set up and your Trip Data entered, use our software to prepare your monthly tax reports, your IFTA tax reports, your Kentucky, New Mexico, New York and Oregon tax reports.
After all that data is in the computer, you can also run extra reports and lists to help you manage your business.  And you can use the Online Filing Cabinet to store all your tax returns, permits and important papers.
Filing History stores it all.  What could be easier?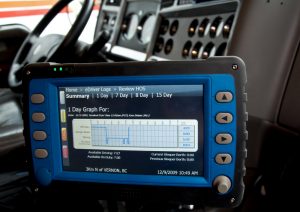 Saves Time: Don't waste your time on data entry. Upload data from your ELD, GPS, Fuel Vendor instead of writing it down on Trip Sheets and entering the data into software;  E-file reports instead of filling in paper forms and mailing;
Saves Audit Flags: Our comprehensive data diagnostics software identifies errors, gaps and audit-flags prior to filing – significantly reducing the risk of an audit.
Saves Data: Manage all of your client's data in one place (contact info, account #s, fleet info, etc) and tract projects and workflow with your staff. Track projects and workflow. don't waste time looking for permits and license numbers
Saves money: We intelligently use all data collected from ELD's(not just HOS) to save you money and ensure you get the most out of your investment. No need to pay for data entry help or computer programmers;
Saves paper: store all of your important documents in the cloud and access them any time on any device 100% on line and paperless.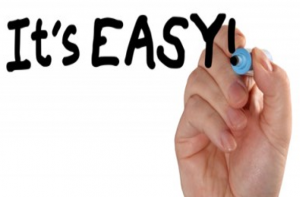 Input data once (manually or electronically) – reuse it to create tax returns, company reports, e-filings, audit records;
Have one location to store all your permits and records that goes anywhere you go;
Get rid of all the paper and stay organized;
One stop shop of specialists who know trucking, the kind of help you need – and when you need it.
Access all your business data in one place.
Access your records from anywhere (internet connection required)
Available access 24/7.
We specialize in trucking. We've been in trucking over 80 years and developing technology tools for truckers since 1999.  We know trucking.
Our mission is to provide the best Customer Service possible, including English and Spanish speaking support agents, with people not phone messaging systems. If you aren't happy, we  aren't happy.
We are proud to be American; We offer old fashioned customer support, USA owned and operated.
Your satisfaction is guaranteed or we refund your money.
IFTA U.S. & Canada Filing Map
Go to your Support Center for more details.