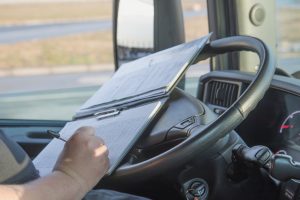 Road Tax Preparation – Preparing accurate IFTA and Weight-Distance tax reports requires paying attention to a lot of details!!! How many drivers do you have? How many trucks do you run? How many fuel vendors do you have relationships with? How many different ways do your drivers keep track of their routes? How many different software tools do you need to run your business? The answers to all these questions have to come together consistently every quarter in order to prepare the tax reports! TruckeServices is designed to do all that efficiently – and quickly!
After you prepare your report you have to file it! That's a whole additional can of worms! How many permits do you have? Do you know if your jurisdiction requires you e-file your taxes on their website? Do you remember how to get to their website? Do you remember your login information and your password? Do they take your credit card to pay taxes due? Or, do they allow you to mail your tax return on their form? Do they mail you forms every quarter anymore? Do they remind you when your taxes are due?
You need to know the answers to all these questions in order to prepare and file your IFTA and Weight Distance Reports! But TruckeServices is designed to store all your important information, collect all the data you need, calculate the taxes due before you
make a costly mistake filing on the state website and guide you to the right website for e-filing.
TruckeServices allows you to take care of all this business without keeping track of all the paper. Now you can prepare and file your quarterly taxes without all the paper! Store your permits in the cloud – gather your data from the cloud – compile the information on your computer or tablet and finally deliver accurate information to your state filing authority via the cloud! TruckeServices is here to save you time!! Imagine that!
All Available Jurisdictions
Our full service site offers tools that help keep track of important information – and software to compile and calculate fuel and mileage quarterly reports.
When ever a jurisdiction is capable of accepting e-filed returns (45 and counting!), we go the extra distance and  actually offer to e-file IFTA Quarter reports for our users.
No paper forms to print and mail.  No paper forms to re-key into state e-file websites.
No wasted time trying to remember where to go and how you did it last quarter.