2018 NATSA Conference – Oklahoma City, OK
This year the NATSA conference was ALL about technology. What's changing. What's staying the same. Both inside the truck and at the office.
The biggest change rocking the industry is still ELDs. There are those who want to use their ELD strictly and only to meet the ELD requirements, and there are those who are hoping to squeeze some more functionality out of the device, to maximize their bang per buck. Of course, I'm talking about IFTA.
There are 4 things to remember if you're going to use your ELD for IFTA.
Recordkeeping Matters
The purpose of an ELD is safety. The purpose of IFTA it to collect and distribute fuel taxes. The Recordkeeping requirements for each are not the same. Don't think you can just get an ELD and all your paperwork problems are solved because they aren't. Here's a handy dandy chart to help you understand the differences.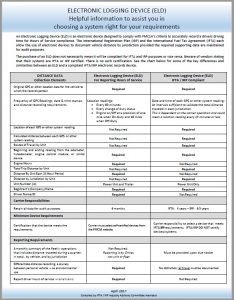 No Such Thing As "IFTA Compliant"
There's no standardization of acceptable GPS records at this time. Whatever "IFTA Report" you're getting isn't "IFTA Compliant" because there's no standard to be compliant to. I don't care what the sales guy told you, he probably didn't know what he was talking about. NATSA as an organization is working towards writing a ballot that would offer some standardization but until that's written, voted into law, and the ELD companies get on board, there's no such thing as IFTA Compliant.
GPS Isn't Perfect
Automation has come a long way and the GPS data coming out of ELDs is good, but it's not perfect. Your IFTA is a Tax Return, and it still needs to be reviewed by somebody who knows what they are doing. Because if you're one of the unlucky 3% chosen for an audit, you can bet that auditor knows to looks super closely at your records.
Be Audit Safe
And speaking of Auditors, they ARE looking super closely at your ELD records. Closer than you might want. And they AREN'T finding what they are looking for, which means they are often going back to paper records to audit your form. So if you ditched your paper trip sheets, and your IFTA agent, and are just submitting off the report from your ELD, you may be in for a NASTY surprise in the form of a 20% penalty for insufficient records.
NATSA is the North American Transportation Services Association. If you would like to be part of the discussion about Standardizing GPS records, please join NATSA and volunteer!
Written by Casey Bullard
Don't forget to follow us on Twitter or Facebook for more updates!